Recognised in The Parliamentary Review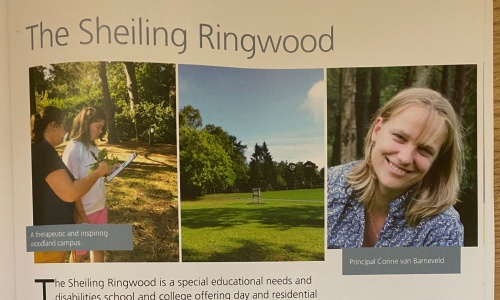 PRESS RELEASE: Best practice and development with like-minded organisations is key
The Sheiling Ringwood, a specialist school and college based on the Dorset and Hampshire border, has been recognised as a best practice representative for the upcoming 2021 edition of The Parliamentary Review - an independent publication which looks at how key British organisations are responding to different political and economic challenges.
The publication is apolitical and reviews the latest events in parliament from a non-partisan perspective. Success for organisations of any size does not always come easily and The
Parliamentary Review is a respected forum for anyone who seeks to make a difference in their sector. It highlights significant developments and concerns for leaders up and down the country.
Corine van Barneveld, Principal of The Sheiling Ringwood said "We are delighted to be involved in The Parliamentary Review and be able to share more about our wonderful school and college and to engage in valuable discussion, best practice and development with other high profile and like-minded organisations."
The Secretary of State for Business, Energy and Industrial Strategy, Kwasi Kwarteng says "this year's Parliamentary Review reflects on a tumultuous and extraordinary year, globally and nationally."
The Sheiling Ringwood's article can be viewed here:
https://www.theparliamentaryreview.co.uk/organisations/the-sheiling-ringwood