Traffic Crossing System for Students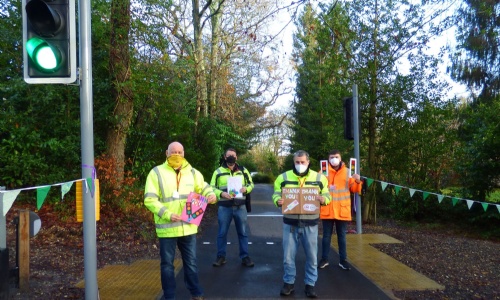 PRESS RELEASE: The Sheiling Ringwood are delighted to receive the generous donation and full installation of a traffic crossing system from Siemens Mobility Limited
The Sheiling Ringwood, an independent, day and residential special school and college for students with severe, complex and moderate learning disabilities, was delighted to receive the generous donation and full installation of a traffic crossing system from Siemens Mobility Limited. The Sheiling welcomed back the team from Siemens Mobility to an opening celebration, to see the crossing in action and to receive thanks from Sheiling students.
The system is a valuable learning aid for all students across the Sheiling campus. The system replicates safety crossings used within the wider community and is nestled within the safe Sheiling environment making it ideal for supported familiarisation through to independent practice.
Both The Sheiling Ringwood and Siemens Mobility worked in partnership over a period of six months to ensure this fixture could be delivered in challenging times with rigorous Covid-19 restrictions in place and as such has generated a hugely warm response and much positivity amongst students, staff and the dedicated Siemens Mobility team.
Corine van Barneveld, Principal, says: "we are extremely grateful to Siemens Mobility for their generosity and to their hard-working team for making this project a reality for our students. It will greatly enhance our young people's lives and will be integral to their learning and life-skills."
Wilke Reints, Managing Director Intelligent Traffic Systems, Siemens Mobility Limited, commented: "It's heartwarming to see our team members work on a project that will make a real difference to students who are now able to practice crossing the road in a safe environment. We're passionate about giving back to our local community and I'm really proud of everyone involved. I hope the system will help students become more confident in crossing the road for many years to come."
To find out more about The Sheiling Ringwood, contact 01425 477488 or visit their website: www.thesheilingringwood.co.uk
To find out more about Siemens Mobility, contact Laura.Harvey@siemens.com or visit www.siemens.com/mobility.