Fun Fundraising!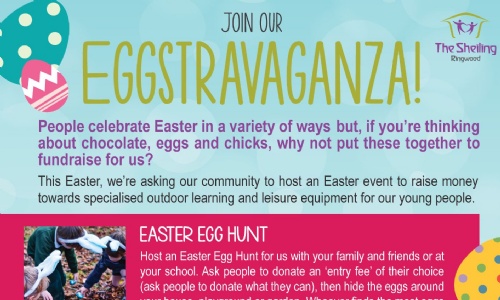 People celebrate Easter in a variety of ways but, if you're thinking about chocolate, eggs and chicks, why not put these together to fundraise for us?
This Easter, we're asking our community to host an Easter event to raise money towards specialised outdoor learning and leisure equipment for our young people.
EASTER EGG HUNT
Host an Easter Egg Hunt for us with your family and friends or at your school. Ask people to donate an 'entry fee' of their choice (ask people to donate what they can), then hide the eggs around your house, playground or garden. Whoever finds the most eggs wins, with the donations being given to support our children and young people. Everyone is guaranteed a cracking good time!
EGG AND SPOON RACE
For an even more eggcellent event, you could add in an Egg and Spoon Race. You could use either real or chocolate eggs – just make sure the winner gets a chocolatey prize!
CAKE SALE
After eggspending so much eggstra energy – why not round things off with a cake sale for your Easter Eggstravaganza?! Ask everyone to bring in some home baked goods that can be sold to raise money for the Sheiling. Keep it Easter themed with carrot cupcakes, hot cross buns and, of course, – more chocolate!
If you are fundraising for the Sheiling this Easter, let us know on social media or email rachel.staff@thesheilingringwood.co.uk